Produsul a fost adaugat in cos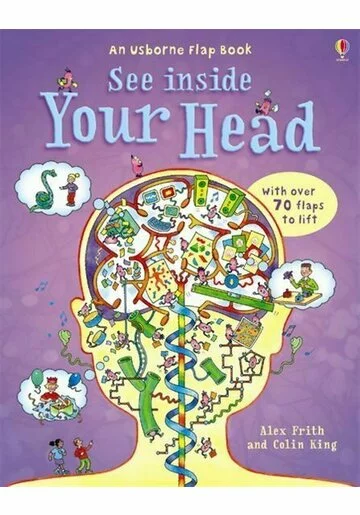 See Inside Your Head
COD PRODUS: 9780746087299
59.90 Lei
See Inside Your Head
Gen: Carti pentru copii
ISBN: 9780746087299
Limba: Engleza
Subgen: Carti educative
Autor: Alex Frith Colin King
Pagini: 16
Format: Fizic
Pret special
59.90 Lei
Produs momentan indisponibil
Comanda prin telefon: 0723.193.019
Comanda prin telefon:
Transport gratuit pentru comenzi peste 99 lei
Gen: Carti pentru copii
ISBN: 9780746087299
Limba: Engleza
Subgen: Carti educative
Autor: Alex Frith Colin King
Pagini: 16
Format: Fizic
Descriere
A thought-provoking flap book on how the brain and senses work presented in a clear, colourful, and above all fun way. From how the brain learns to do new things like playing to tennis to what happens when the brain goes wrong, this book explains the essential part the brain plays in our every thought and action. With over 70 flaps to lift, each hiding an interesting fact or fun visual illusions, this book provides a great introduction to the hidden world of the mind.
"An interactive lift-the-flap book with quirky 'lemming' style characters that delves inside the remarkable goings-on of the human brain." Junior Education Plus
"Simple explanations and clear illustrations make even complex processes like memory accessible." Good Book Guide
"Anyone who has ever wondered what goes on inside their brainbox will be fascinated by See Inside Your Head from Alex Frith and Colin King. Packed with more than 80 flaps to peer under, the most reassuring sentence is that there are so many things to see in our world we need to ignore most of it or risk going crazy. Now there's a good excuse – along with the fact that you can improve your skills just by thinking about them.
Find out such things as why the boy with the plastic leg still feels an itch in his foot and why your brain doesn't always work properly first thing in the morning. There's a whole raft of things you never knew you wanted to know. Intended for the eights-plus, this is a book for the whole family. "
Newbury Weekly News
"An utterly incredible book, fantastically illustrated (as you'd expect from Usborne) and with quite a broad appeal to a wide age range, a book that will be a valuable resource for your budding biologists to dip into."
Read it Daddy
"Filled with flaps and masses of mindbending 'proper' psychology. My three-year-old son and I loved it. "
Psychologist magazine