Produsul a fost adaugat in cos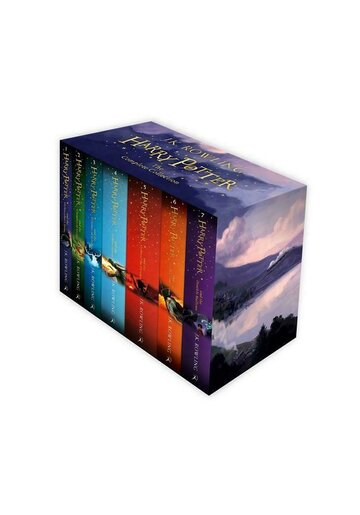 Harry Potter Box Set - The Complete Collection
COD PRODUS: 9781408856772
299.00 Lei
Harry Potter Box Set - The Complete Collection
ISBN: 9781408856772
Gen: Carti pentru copii
Limba: Engleza
Subgen: Fictiune pentru copii
Autor: J.K. Rowling
Coperta: brosata
Data aparitie: 2014
Pagini: 3422
Format: Fizic
- 32% Reducere
299.00 Lei
439.99 Lei
In stoc
Comanda prin telefon: 0723.193.019
ISBN: 9781408856772
Gen: Carti pentru copii
Limba: Engleza
Subgen: Fictiune pentru copii
Autor: J.K. Rowling
Coperta: brosata
Data aparitie: 2014
Pagini: 3422
Format: Fizic
Descriere
A beautiful boxed set containing all seven Harry Potter novels in paperback. These new editions of the classic and internationally bestselling, multi-award-winning series feature instantly pick-up-able new jackets by Jonny Duddle, with huge child appeal, to bring Harry Potter to the next generation of readers. It's time to PASS THE MAGIC ON.
Harry Potter Complete Boxset of 7 Titles by J.K. Rowling Includes:
1. Happy Potter and the Philosopher's Stone
2.?Happy Potter and the Chamber of Secrets
3. Happy Potter and the Prisoner of Azkaban
4. Happy Potter and the Goblet of Fire
5. Happy Potter and the Order of the Phoenix
6. Happy Potter and the Half-Blood Prince
7. Happy Potter and the Deathly Hallows
One of the most famous books for children, young adult and adults alike – Harry potter 1 to 7 by J K Rowling is here in an exciting new cover for children.
This package is a children's edition, making the magic even more mystical with attractive packaging of each part.
Harry Potter series needs no introduction. Harry is an orphan, living with his Muggle uncle and aunt in England. He is a gifted wizard who finally goes to the place he belongs to- Hogwarts School of wizards and witchcraft. He meets many other young wizards. Two of them become his close friends – Ron and Hermione. The trio spends their years in Hogwarts fighting evil powers of Lord Voldemort. Harry Potters mentor Dumbledore, one of the most powerful wizards ever and his godfather-Sirius Black helps him throughout the series. Severus Snape is one of the most mysterious characters around. They also have to fight their evil classmates like Draco.
Through these seven books, Rowling paints a picture of the time these kids spend at the Hogwarts School. They go through tremendous adventures and good and bad moments bring them close and they become the best of friends. Through these years, they solve centuries old mysteries, fight dragons and spiders and brave attacks of the Death eaters. Voldemort and his army of death eaters come up against Harry Potter and his army of students and teachers of the Hogwarts, supported ably by the Order of Phoenix. In the seventh book, Harry, Ron and Hermione, with help from the members of the Order of the Phoenix and many of the teachers and students, defend Hogwarts from Voldemort. Will they be successful? What all will they go through? How does this series end? This edition comes with high quality printing and paper. Published by Bloomsbury press, it is an ideal paperback edition.